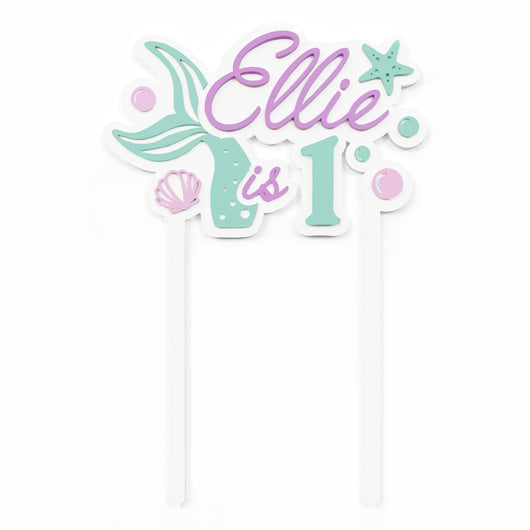 Personalized Name Acrylic is 1 Mermaid Cake Topper
Regular price $29.99 Sale
Measures: 6" W and 9" tall
Material: High quality acrylic
Make your little girl's birthday celebration truly magical with our Acrylic Mermaid Cake Topper. Crafted with hand-drawn graphics, it showcases a mermaid tail, starfish and bubbles in a mix of lavender and aqua hues.

Personalization is at the heart of our Acrylic Mermaid Cake Topper. Add a touch of individuality by customizing it with a name and age. Whether it's a girl's first birthday celebration or a intimate mermaid themed birthday picnic party, this personalized detail adds a delightful and memorable touch to your mermaid themed birthday cake.

Easy to place atop your cake, the Mermaid Cake Topper is the perfect finishing touch to any mermaid-themed party, underwater adventure, or whimsical celebration.