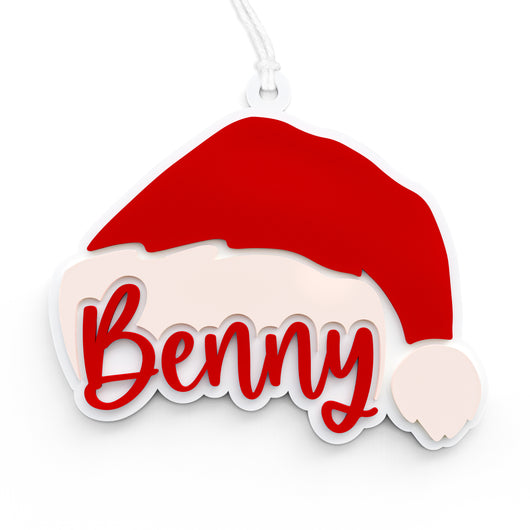 Personalized Santa Hat Acrylic Gift Tag
Regular price $12.99 Sale
Material: High quality acrylic
White twine included

Elevate your holiday gifting with our personalized acrylic Santa hat gift tags, the perfect finishing touch to make your presents truly special. Crafted with care and attention to detail, these Santa gift tags are include the classic holiday colors of white, cream, and red. Add a personal touch by customizing each tag with the name of your choice, making it a unique and heartwarming addition to your Christmas baskets, gifts, and stockings.

These Christmas gift tags are more than just labels; they're a personal gesture that adds warmth and thoughtfulness to your holiday presents. Whether you're sharing the holiday spirit with friends, family, teachers, or neighbors, these custom Santa hat gift tags are a thoughtful addition to your holiday gift-giving.

Made from high-quality acrylic, these acrylic Christmas ornaments are designed to withstand the holiday season's festivities and serve as cherished mementos. Not only are they perfect for labeling your Christmas gifts and baskets, but they also make great Christmas ornaments too. Whether you decide to hang them on your tree or use them as unique holiday decor, they add an extra layer of magic to your Christmas celebrations.